Projects gathering support
2,564
Total votes analyzed today
10K projects in this round: 6
Last 4 projects to achieve support:
View all
Project support spread
5k to 9K votes
104 projects
1K to 5k votes
632 projects
100 to 1k votes
1698 projects
Below 100 votes
122 projects
Average values
All our data is updated once a day and covers every project that is currently gathering support or already achieved support on the LEGO Ideas website.
Avg. comments per project:
Avg. days until expiration:
Top 20 fastest growing LEGO Ideas projects today
View all
Top 20 supported LEGO Ideas projects today
View all
Total projects on LEGO Ideas VS average number of supporters (last 20 days)
Number of projects per month (last year)
Latest LEGO® Ideas review results
View all
Round
#3/2022
review results are in, with 2 submissions accepted out of a total of 35.
Round
#1/2023
is under review with 71 submissions out of initial 73 (2 have been archived).
Round
#2/2023
is under review with 49 submissions.
Round
#3/2023
is now open with 6 submissions that already hit 10K votes.
You can read more at
the official LEGO® Ideas blog
Random LEGO® Ideas set of the day
View all
21313: Ship in a Bottle
Notes:
Re-released in 2020 as 92177 set.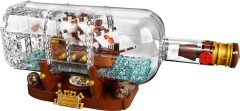 See more on:
Brickset
Bricklink
Rebrickable
Random project of the day
WOOD BIRD FEEDER
by TheHuLego1986
Submitted:
Votes:
Comments:
Days left:
2022-08-15
328
(+0 new)
95
(+0 new)
13
---
Statistics:
Project's age (days):
411
Lifetime average votes per day:
0.80
Average votes per day since we track data:
0.38
Next milestone:
1k votes (+182 days)
Votes remaining to 10k votes goal:
9,672
Votes remaining to 5k votes goal:
4,672
Votes remaining to 1k votes goal:
672
Days needed to reach the next goal at current rate:
842
Votes per day needed to reach the next goal:
51.69
Projections based on the current voting rate:
333
347
393
564
In 7 days:
In 30 days:
In 90 days:
In 365 days:
6
0
0
0
---
How is your project doing?
Ideas Tracker was created for one purpose: to benchmark your project against others. We provide regularly collected data for the most popular and most supported Ideas projects so you can see where you stand and get some idea of your chances.
Optimize your Ideas campaign
Let's be honest: most Ideas submissions are not going to reach 10,000 votes. So why spend time on the ones that just aren't going to make it when you can focus on the potential winners? Our comprehensive data helps to estimate each project's chances to hit that special number.
Support that matters
Many projects suffer from the 'endgame bias' - people don't bother supporting them because they seem so very likely to win. We're here so you can use your support in the most meaningful way possible - and help the projects that need it most.
Latest changes and plans
We have only recently launched so there's a lot of work ahead and many plans. We would like to eventually provide statistics not just for the most popular and most supported projects but also for entries to challenges. These work largely differently, though, so it's going to be a challenge.
External resources
We're not the only useful website out there. Make sure to visit these guys, too!